We Have Been Meeting the Needs of Labor Since 1943. Unions and Their Members Remain A Top Priority.
Our Labor Legacy
There are not many organizations that can claim labor roots dating back to the early 1900s. The Amalgamated Family of Companies can. Even before our company began, our future founder, Sidney Hillman, sought to raise the standard of living for working people. In 1914, he established the Amalgamated Clothing Workers of America which subsequently became one of America's fastest growing unions. In 1943, he founded Amalgamated Life Insurance Company, the flagship organization of the Amalgamated Family of Companies. Its mission was then as it is today: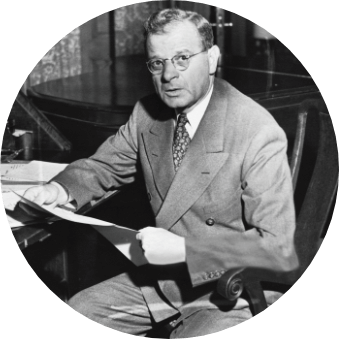 Mission Statement
We are dedicated to helping working people and their families achieve financial security by providing affordable life, health and pension products and services while maintaining an unwavering commitment to excellence.
Today, we have expanded our organization and its offerings. We are a national organization consisting of five related companies, all delivering solutions that are effectively meeting the needs of unions and their members.
THE AMALGAMATED FAMILY OF COMPANIES
A Trusted Resource to Union Plan Sponsors
At the Amalgamated Family of Companies, we serve Taft-Hartley plan sponsors, employers and their members as a trusted resource. We provide high quality solutions that address specific needs and objectives. We are accountable, responsive and always committed to providing the highest standard of service. Our robust Multi-Channel Contact Center staffed by dedicated, bilingual, USA-based employees is just one example of our commitment to service quality. Our various companies' excellent reputations, industry designations and accreditations are further evidence that high quality, exceptional service and cost-competitive solutions are integral to our mission.
One Family with a Long Tradition of High Quality Solutions and Services for Unions and Their Members
Amalgamated Family of Companies is an organization of related businesses, whose products and services deliver a comprehensive, integrated suite of solutions, from group insurance, stop loss and voluntary benefits, to benefits administration, medical care management, property and casualty insurance and printing and promotional offerings. Each of our member companies has a proven track record as a valuable resource serving multi-employer plans, businesses and their members.
Amalgamated Life Insurance Company is a leading provider of comprehensive group, stop loss and voluntary benefits which has earned consecutive "A" (Excellent) ratings from A.M. Best Company since 1975. It attests to the company's strong fiscal position which is a reliable criterion for plan sponsors and brokers seeking a high quality, high performance, insurance resource.
Amalgamated Employee Benefits Administrators is a total resource for comprehensive third party employee benefits administration focused on delivering high quality, value-added services that effectively meet the needs of Taft-Hartley multi-employer plan sponsors and their members. Its services range from health and dental claims processing, claims review and adjudication, pension and annuity administration, and utilization reporting and management, to recordkeeping, audit assistance, payroll auditing and member communications.
Amalgamated Medical Care Management is a premier resource for a comprehensive suite of high quality care management services, including: Utilization Management, Case Management, Population Health Management, Nurse Helpline/Health Information and Telehealth/Nurse2DOConnect. The company is accredited to URAC standards across core service areas, including: Utilization Management, Case Management, Health Call Center and Independent Review. AMCM has achieved Telemedicine accreditation from the Clear Health Quality Institute and is a full member of the National Association of Independent Review Organizations.
Amalgamated Agency is a full-service property and casualty brokerage offering an extensive portfolio of solutions covering a wide range of management liabilities with solutions such as Fiduciary Liability, Fidelity and Crime; Property and Casualty that include General Liability, Umbrella and Workers Compensation; Professional Liability with solutions such as Errors and Omissions, Network Security and Privacy; and Directors and Officers Insurance and Employment Practices.
AliGraphics is a leading provider of comprehensive offset and digital printing, graphics, mailing and fulfillment services and promotions. The company is recognized for its high quality printed materials, delivered on time and on budget and its application of leading-edge technologies for offset printing, thermography, digital on-demand and large format printing. Its technology line-up includes the latest-generation equipment which delivers the highest print quality whether for a full-color, two-color, sheet-fed, thermograph or digital on-demand project.