Labor now has a valuable new benefit to offer Union members and their families which is especially relevant as the nation struggles through the pandemic.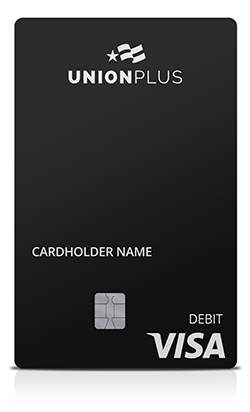 It is the Union Plus All-In-One Prepaid Visa® Card marketed by Truth4Life, LLC. Here is what hard working Americans can gain through this market-responsive initiative:
Mobile enabled, prepaid account that is FDIC insured up to $250,000
iOS and Android native applications with full web access
Multiple load and pay options
Anytime, anywhere account management
Mobile device protection1
Up to $10,000 of Guaranteed Issue Term Life Insurance2
Many Americans live paycheck-to-paycheck with limited opportunity for financial independence. They are plagued by limited access to affordable financial services. COVID-19 has only made their financial situation worse. As a result, they may experience difficulty managing their finances. The Union Plus program was designed to help these very individuals.
With the All-In-One program, accountholders are empowered with a low cost, high value digital banking solution. It helps pave the way for them to establish a more secure financial future for themselves and their families.
In addition to the digital features of the All-In-One program, accountholders benefit from receiving a personalized EMV3 Visa prepaid debit card that can be used everywhere Visa Debit is accepted, both in the US and internationally. It offers leading-edge digital features, such as a mobile check load (coming soon), bill pay (coming soon), digital-wallet, and card-to-card functionality, which allows cardholders to make payments or conduct transactions between friends for splitting a dinner bill or rent. With the All-In-One program, accountholders can direct deposit their paycheck, income tax refund and/or benefits payments, including COVID-19 relief funds into their card account and have it fully accessible up to two days earlier4.
Among the other valuable benefits of the Union Plus program are Visa Purchase Security5 and Visa Zero Liability6. Applying for the All-In-One Card requires no credit check but is subject to ID verification7. There are no minimum balance requirements or overdraft fees8.
To learn more about this program, please contact: Mike Schaefer at mschaefer@amalgamatedbenefits.com.
---
BY USING THIS CARD YOU AGREE TO THE TERMS AND CONDITIONS OF THE CARDHOLDER AGREEMENT AND FEE SCHEDULE, IF ANY. The Union All-In-One Prepaid Visa Card is issued by Metropolitan Commercial Bank (Member FDIC) pursuant to a license from Visa U.S.A. Inc. "Metropolitan Commercial Bank" and "Metropolitan" are registered trademarks of Metropolitan Commercial Bank ©2014.
FOR CUSTOMER SERVICE CALL Cascade Financial Technology Corp at 1-844-940-1229.
1 Mobile Device Protection: Certain terms and conditions apply. For general questions regarding this benefit visit our website www.securecardassociation.org or contact us at 1-855-955-6469.
2 The Group Term Life Insurance offers a benefit payout to a chosen beneficiary. This Group Term Life Insurance may be issued on Form Series GLC-3002, by Guarantee Trust Life Insurance Company (GTL), 1275 Milwaukee Avenue Glenview, IL 60025 or Policy Form Number ALTLP-TX-05 by Amalgamated Life Insurance Company (ALI), address 333 Westchester Avenue, White Plains, New York 10604. Benefit amounts are based on age at the time you become a member of the SCAA. These coverages and their features may vary by state. Certain exclusions and limitations may apply, for complete details of coverage, please refer to your certificate. This coverage is not intended to replace any life insurance currently enforced. GTL, ALI, Metropolitan Commercial Bank and Secure Card Association of America (SCAA) are separate legal entities and have sole financial responsibility for their own products. GTL and ALI provide a Group Term Life Insurance coverage and do not provide nor are they affiliated with the discount programs provided as a benefit of membership in SCAA. The Term Life or Accidental Death insurance included with your account is not FDIC insured, guaranteed by the issuing bank, or a deposit account.
3 Europay, Mastercard, and Visa
4 Faster access to funds is based on a comparison of traditional banking policies and deposit of paper checks from employers and government agencies versus deposits made electronically. Direct deposit and earlier availability of funds are subject to payer's support of the feature and timing of payer's funding.
5 Visa Purchase Security: Certain terms and conditions apply. For general questions regarding the benefit call 1-800-553-4820 or visit our website at www.securecardassociation.org
6 Visa Zero Liability: You must notify your financial institution immediately for any unauthorized use. For specific restrictions, limitations and other details, please see your cardholder agreement.
7 IMPORTANT INFORMATION ABOUT PROCEDURES FOR OPENING A CARD ACCOUNT: To help the federal government fight the funding of terrorism and money laundering activities, federal law requires all financial institutions and their third parties to obtain, verify and record information that identifies each person who opens a Card Account. What this means for you: When you open a Card Account, we will ask for your name, address, date of birth, and other information that will allow us to identify you. We may also ask to see your driver's license or other identifying documents.
8 Other fees, terms and conditions may apply, see cardholder agreement's fee schedule.