No one would deny that drug costs are out of control. It is expected that total U.S. net spending on medications will reach $380 to $400 billion in 2025. These costs will be further driven by steadily escalating specialty drugs which now account for over 50% of all drug spending. While pharmacy benefit managers (PBMs) have a role in drug cost containment, more is needed. Entering the field is Amalgamated Employee Benefits Administrator, a third party administrator providing AEBRx, an innovative Pharmacy Benefit Administration (PBA) service.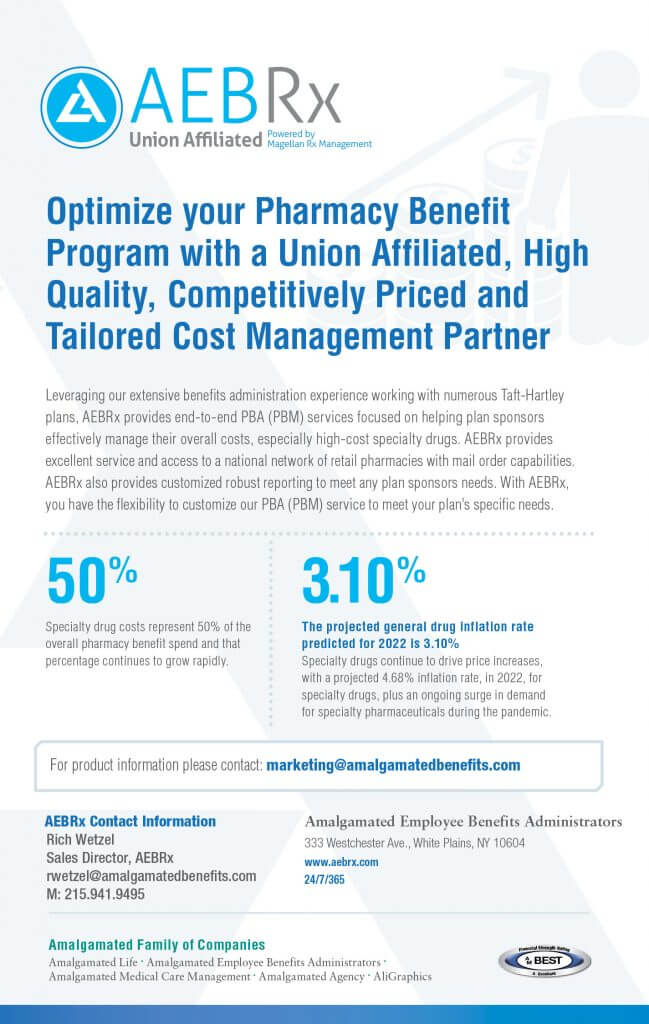 Applying Clinical Protocols with Alternative Payer Sources for Specialty Drugs
AEBRx is an end-to-end PBA service designed to help plan sponsors and Taft-Hartley trust funds better manage high-cost and specialty drugs, while providing excellent service and access to a national network of retail pharmacies with mail order capabilities. To deliver this PBA service, Amalgamated Employee Benefits Administrators partnered with Magellan Rx Management, a full-service pharmacy benefits management division of Magellan Health, Inc. (NASDAQ: MGLN). Taft-Hartley trust funds and plan sponsors will be able to achieve significant cost savings from the standard inclusion of both the Payer Matrix and ELMCRx Solutions' Tesser Health program. These two programs combine to create an advanced specialty drug cost management program and high cost (typically $2,500+) drug prior-authorization clinical and financial auditing service that identifies alternative and more clinically sound and/or cost-effective high-cost drugs. The combined results of these programs have been shown to deliver a 40 to 50% average savings on specialty and high cost drugs while also limiting stop loss liability.
User-Friendly Platform
AEBRx's user-friendly platform, powered by Magellan Rx Management, is easy to navigate and features engaging dashboards, intuitive functionality, and real-time data accessible online. To support plan members, AEBRx offers robust tools that connect them on a 24/7 basis to drug and related healthcare information, easily accessed on their mobile devices and desktops. Using AEBRx's responsive member portal and quick response (QR) codes on select specialty prescription labels, plan members can easily access information and medication videos on demand, as well as obtain refill reminders with real time alerts.
A PBA Service with Broad Resources
Plan sponsors and Taft-Hartley trust funds can expect a high-level experience using AEBRx. The PBA service helps remove the headaches associated with pharmacy benefit management and treats high drug costs. It offers:
Stress-free prescription management
Flexible formulary options
Real-time reports
Customized reports on specific drugs, prescribers, patients, and pharmacies
Refill reminders to members
Access to over 68,000 pharmacies nationwide
Improving Pharmacy Benefit Design
A study was conducted and reported by the Commonwealth Fund in August 2019. Its three goals were to identify drugs that add waste to plan sponsors' formularies, measure savings from removing this waste, and determine best practices in pharmacy benefit management. The study concluded that plan sponsors could reduce their drug spending and out-of-pocket costs for their plan enrollees by reducing the use of high-cost, low-value drugs on formularies. It also came to the conclusion that savings could further be achieved by improving pharmacy benefit design and management. AEBRx is a PBA solution that can significantly improve today's pharmacy benefit programs and deliver measurable savings.