While many companies recognize their employees to be their greatest asset, some would also cite their Customer Service department as their lifeline. Without high quality customer service, many companies would not survive.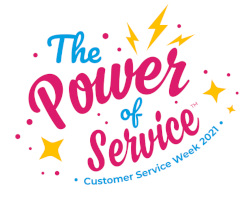 October 4th-8th, 2021 is Customer Service Week. It is celebrated worldwide in diverse industries, from financial, healthcare and education to manufacturing, hospitality, retail, communications, government and nonprofit. Customer Service Week was first celebrated in 1991, and the U.S. Congress proclaimed it a nationally-recognized event one year later. This occasion is an opportunity to consider how customer service has evolved .
Customer Service Evolves
In its earliest form during Industrial Revolution years from 1760 to 1840, customer service took form in the efforts of factory workers, who would handle the inquiries or complaints of customers who journeyed from their homes to the factory to receive support. With the invention of the telephone in 1876 by Alexander Graham Bell, telephonic customer service was born. Now customers could call and ask their questions or issue a complaint. This led to call centers staffed by multiple customer service representatives whose sole job was to help address customers' needs.
Companies assigned toll-free numbers to their Customer Service departments in an effort to project a customer-friendly culture. Then came voice response systems, which featured multiple prompts that customers could select to be directed to the proper individual to address their requirements. Fast forward to the 50s, 60s, 70s, 80s, 90s and 2000s and we saw the introduction of help lines, email customer support, website contact forms and live chats. Artificial Intelligence (AI), machine learning, propriety algorithms and other advanced technologies are now being deployed to optimize customer service processes and help contain related costs.
Some might say that the use of technology in place of live individuals in customer service has created a less personalized and possibly lower quality level of service. This, of course, depends on the organization and the effectiveness of its processes.
COVID-19 Introduces More Changes
A real test of Customer Service came with the global pandemic. Companies adjusting to a remote workforce had to reengineer their customer service departments, telecommunications and information technology systems in order to continue addressing customer inquiries. Not surprisingly, many people experienced long times on hold along with responses that their orders were delayed due to supply chain problems. What businesses may have learned from COVID-19 is that customer service needs to be prepared for the "what if" scenarios, and have in place contingency plans that support the best possible customer service even during the most challenging of times.
Award-Winning Customer Service
At the Amalgamated Family of Companies, we are proud of our award-winning customer service and celebrate our Customer Service Representatives for their commitment to the highest standards of service quality. Applying regular benchmarking against key performance indicators (KPIs), we continually strive to deliver the highest quality customer service. To enable us to best meet your needs, we ask that when you call our Customer Service department that you are prepared with all relevant information and documentation so that we can expedite a response to your question, claim, and or other matter.