Critical Illness Insurance
Providing Increased Financial Security and Peace of Mind
According to data from the U.S. Census, Centers for Disease Control, the federal court system and the Commonwealth Fund, unpaid medical bills are the number one cause of bankruptcy filings in the United States. Most of these cases stem from critical illnesses such as heart attacks, strokes, and certain types of cancer. Many of these bankruptcies could have been avoided with Critical Illness Insurance. Amalgamated Life's Critical Illness Insurance Policy is designed to alleviate financial hardships resulting from a critical illness.
Critical Illness Insurance Features
Face Amount—Up to $50,000 for you (50% of face amount for your spouse); 25% of face amount for your dependent child/ren).
Cash Benefits—Paid directly to you or your family to use as you choose.
Guaranteed Renewable—Coverage remains in force for life as long as premiums are paid.
Portability—You can keep your benefits even with a change of jobs or retirement.
Recurrence Benefit—If you or a family member has a recurrence of the same critical illness separated by 12 months, the lump sum benefit is payable again. Restrictions apply.
Additional Occurrence Benefit—If you or a family member is diagnosed with a different covered critical illness separated by 6 months, the lump sum benefit is payable again.
Maximum Benefit Amount—3x the face amount.
Level Premium—Rates do not increase with age.
Service—Timely and responsive claims service.
YOU Decide How to Use the Cash Benefits
Our cash benefits provide you with greater coverage options because you get to decide how to use them.
Finances
Can help protect your HSAs, savings, retirement plans and 401ks from being depleted.
Travel
You can use your cash benefits to help pay for expenses while receiving treatment in another city.
Home
You can use your cash benefits to help pay the mortgage, rental payments, or perform needed home repairs for your after care.
Expenses
The cash benefit can be used to help pay your family's living expenses such as bills, electricity and gas.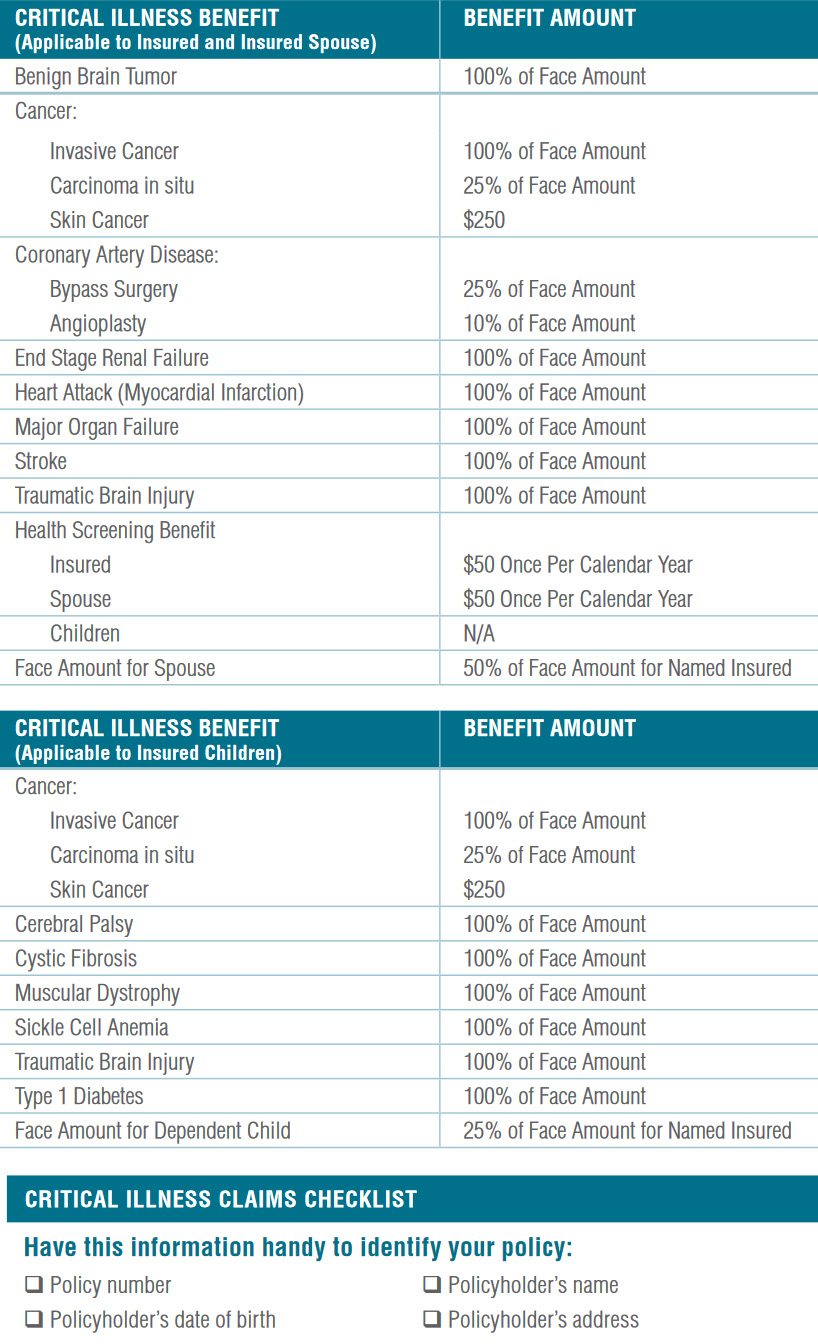 HEALTH SCREENING BENEFIT (Calendar Year Limit) We will pay this benefit for each day a Covered Person undergoes any of the following Health Screening Tests performed after the Waiting Period and while this Policy is in force.
Stress test on a bicycle or treadmill; 2. Fasting blood glucose test; 3. Blood test for triglycerides; 4. Serum cholesterol test to determine level of HDL and LDL; 5. Bone marrow testing; 6. Breast ultrasound; 7. CA 15-3 (blood test for breast cancer); 8. CA 125 (blood test for ovarian cancer); 9. CEA (blood test for colon cancer); 10. Chest X-ray; 11. Colonoscopy; 12. Flexible sigmoidoscopy; 13. Hemocult stool analysis; 14. Mammography; 15. Pap smear; 16. PSA (blood test for prostate cancer); 17. Serum Protein Electrophoresis (blood test for myeloma); 18. Thermography.
The amount payable is shown in the Policy Schedule. This benefit is payable for no more than one day per calendar year per Covered Person as long as the Policy remains in force. Payment of this benefit will not reduce the Face Amount of the Policy. This benefit is not payable for Dependent Children. We will pay this benefit regardless of the test results.
PRE-EXISTING CONDITION We do not pay benefits for any Pre-existing Condition during the initial 12 month period beginning on the Effective Date of coverage on a Covered Person. An Illness resulting from a Pre-existing Condition commencing thereafter will be covered unless otherwise excluded by name or specific description in this Policy.
A Pre-existing Condition means a condition or illness for which medical advice or treatment was recommended by or received from a physician within the 12 months immediately preceding the Effective Date of coverage on a Covered Person.
OTHER LIMITATIONS AND EXCLUSIONS 1. We do not pay benefits for any Illness diagnosed and/or treated outside the United States, the U.S. territories or the countries of Canada and Mexico. 2. We do not pay benefits for any Illness due to or resulting directly or indirectly, from: a) war or any act of war, whether declared or undeclared, terrorism, insurrection, rebellion, or voluntary participation in a riot or civil commotion; b) intentionally self-inflicted injury; c) injury sustained while engaged in an illegal occupation or committing or attempting to commit a felony; d) suicide or attempted suicide, while sane or insane; e) intoxication or voluntarily taking any poison or inhaling any kind of gas, intentional taking of narcotics or any combination of these when not part of a professional medical treatment. Intoxication means the blood alcohol content meets or exceeds the legal presumption of intoxicated as defined by the laws of the state where the event occurred; f) injury sustained while engaged in or taking part in aeronautics and/or aviation, other than as a fare-paying passenger in any aircraft then licensed to carry passengers; g) alcohol abuse or alcoholism, drug addiction or dependence upon any controlled substance. 3. The Face Amount(s) and Maximum Benefit Amount(s) will reduce by 50% on the first policy anniversary after the name insured attains age 70.