At the Amalgamated Family of Companies, we are joining in the national celebration of Customer Service Week, October 4 – 8, 2021.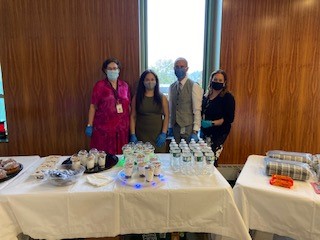 The commemorative event, which was first proclaimed by the U.S, Congress in 1992, recognizes those professionals serving in customer service roles. While the event began in the United States, thousands of companies around the world celebrate the week. In 2020, companies from all 50 U.S. states and over 60 countries participated.  Each year, a special theme is developed for the week's celebration which includes sharing of customer service stories, plans and new ideas.  This year's theme is The Power of Service™; which has a special meaning as the pandemic introduced new challenges into the customer service role.
Meeting Challenges
The best customer service representatives are those who rise to the occasion regardless of the problem they may be trying to address or new challenges they face. During the pandemic, many representatives were forced to perform their jobs working remotely. For many, other family members also may have been working from home along with children learning remotely. Needless to say, the home environment could get hectic for customer service representatives fielding calls.
At the Amalgamated Family of Companies, based in White Plains, New York, we were able to operate fully as a remote Call Center from the date the organization decided to go remote. There was no interruption of customer service nor any decline in the high level of service our customers have come to expect from us. To keep our team members fully-engaged with one another, we used video sharing platforms to communicate, motivate and collaborate. This enabled our staff to operate with maximum agility and flexibility when working remotely.
While our customer service representatives did face challenges stemming from a pandemic-changed workplace, these challenges did not compromise their commitment to our customers, nor the level of service provided. Whether addressing a customer's question or managing a claim, our customers received a professional, courteous and thorough response.
Benchmarking Service Metrics
To ensure that our high standards of customer service quality are met, we consistently benchmark key performance indicators (KPIs). These metrics range from the time it takes to answer a call, to the time it takes to address the customer's inquiry. By continually monitoring our performance, we are able to make adjustments when needed and maintain our high standards.
How We Celebrate
During this year's Customer Service Week, our weeklong celebrations including recognizing our customer service representatives led by our CEO Paul Mallen. There will be power breakfasts, luncheons to acknowledge certain individuals, as well as awards and special Customer Service Week branded gifts for customer service staff in all our locations. There also will be games played throughout the week. While it will be a fun-filled celebratory week, we never lose sight of the serious and important role customer service has in our organization and every other organization.