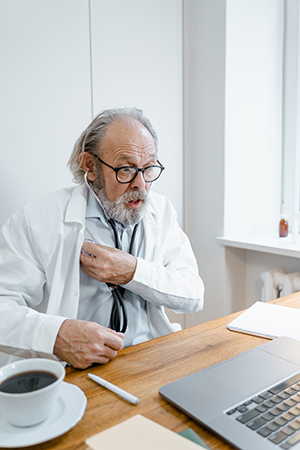 The U.S. Department of Health and Human Services Office of Inspector General (OIG) issued a Special Fraud Alert on July 20, 2022 specifically relating to the actions of fraudulent telehealth companies. Based on the OIG's civil and criminal investigations, healthcare practitioners are being targeted by these companies, which claim to provide telehealth, telemedicine or telemarketing services. Instead, these telehealth companies are allegedly engaged in kickbacks and substandard medical practices, which generate medically unnecessary orders and prescriptions for products or services. These fraudulent actions, in turn, result in the submissions of fraudulent claims to Medicare, Medicaid and other federal healthcare programs. Further illustrating how pervasive these telemedicine schemes have become, the U.S. Department of Justice (DOJ) has already taken down $1 billion in alleged fraudulent telemedicine schemes. Telemedicine providers that prescribe controlled substances are also the focus of the government's recent enforcement actions and corresponding congressional scrutiny.
Seven Characteristics of a Telemedicine Fraud
The OIG's Alert highlights seven characteristics which could signal fraud and of which healthcare providers should be aware. They include:
Patients are identified or recruited by the telemedicine company, telemarketing company, sales agent, recruiter, call center, at health fairs, and/or through the internet, social media or television ads advertising free or low out-of-pocket costs.
Practitioners are not given the opportunity to interact with the patient or gather information enabling them to properly assess and determine the medical necessity of the prescribed items or services.
Compensation paid to practitioners is based on the volume of items or services ordered or prescribed (which may be characterized to the practitioner as compensation based on the number of purported medical records reviewed by the practitioner).
The telemedicine company only provides services to federal healthcare program beneficiaries and doesn't accept insurance from other payers such as a commercial plan.
The telemedicine company claims to provide services to individuals who are not federal healthcare program beneficiaries but actually bills federal healthcare programs.
The telemedicine company provides just one product or class of services (e.g., genetic testing, durable medical equipment, or other specific products or services) potentially to restrict a practitioner's treatment options to a predetermined treatment.
The telemedicine company doesn't expect, nor provide information to enable or require healthcare practitioners to follow up with patients.
Alleged Fraud Schemes
The Alert also focused on some alleged schemes being conducted by fraudulent telemedicine companies. For example, kickbacks are commonly used wherein the telemedicine company contracts with providers to prescribe medically unnecessary products or services for individuals who were solicited and recruited by the telemedicine company and then pays the practitioner for prescribing the products/services. Often, the telemedicine company will tell the practitioner that they don't need to contact the patient or review medical records. They direct the practitioner to order or prescribe a preselected product/service, which eliminates the provider's independent professional medical judgement from being applied to assess the clinical appropriateness of the prescribed product/service. This initial fraud is compounded when the telemedicine company sells the practitioner's order or prescription for other individuals and entities, again fraudulently billed for unnecessary products/services. These frauds involve multiple federal laws and criminal healthcare fraud statutes including the Civil Monetary Penalties Law provision for kickbacks, Anti-Kickback Statute and False Claims Act.
Healthcare providers are urged to proceed with extreme caution when engaging a telemedicine provider. Careful vetting of the company is essential. If any of the red flag characteristics noted in the Alert are detected, the provider should report the firm to the U.S. Department of Health and Human Services Office of Inspector General or the U.S. Department of Justice.
By selecting a reliable, compliant telemedicine program, such as Nurse2DOConnect, offered by Amalgamated Medical Care Management, you can be confident that your members/employees have access to the most appropriate type and level of care needed, combined with the convenience of 24/7 virtual access across the United States. For more information about this robust, next generation program please visit www.nurse2doconnect.com or refer to the below video which contains additional details: