Amalgamated Medical Care Management, a leading national resource for comprehensive, high quality care management services, was recently granted full URAC® accreditation in two service areas – Health Utilization Management and Independent Review Organization. The awards of both accreditations are effective from April 1, 2021 to April 1, 2024.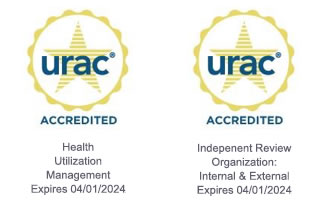 In its letters granting full accreditation to the company in these areas, URAC stated, "Your organization is commended for its commitment to promoting quality health services by obtaining URAC accreditation."
Amalgamated Medical Care Management has been earning URAC accreditations in these two service areas, as well as other key service areas since 1994. In addition to these recent re-accreditations, the company Case Management and Health Call Center services also are URAC® Accredited.
The URAC accreditation process is rigorous. The organization designed its accreditation approach to be collaborative and to facilitate learning and continuous quality improvement. While URAC sets the standards, it does not dictate how they are achieved believing that this flexibility encourages and supports innovation. URAC accreditations ae all independently validated to ensure the highest standards of care. The accreditation process and preparing the related documentation can take between four to six months with most organizations completing the process in ten to twelve months.
URAC, which was founded in 1990 as a non-profit organization, is the independent leader in promoting health care quality and patient safety through renowned accreditation programs. URAC develops evidence-based standards in collaboration with a wide array of stakeholders and industry experts. Its portfolio of accreditation and certification programs span the health care industry, addressing health care management and operations, pharmacies, telehealth, health plans, medical practices and more. URAC accreditation is a symbol of excellence for organizations to showcase their validated commitment to quality and accountability.