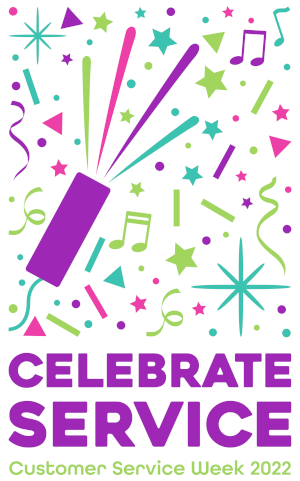 What began in 1987 as a way for organizations to acknowledge their customers has since grown into an international event celebrated by all 50 states in the U.S. and 60 countries across the world. Tens of thousands of organizations across diverse industries celebrate with activities ranging from thank you letters and promotional gifts for customers to special luncheons, awards and other internal celebratory activities for customer service team members and other employees.
This year, the theme for Customer Service Week is 'Celebrate Service' and will be celebrated from Monday, October 3rd through Friday, October 7th.
A Customer Service Week Proclamation
In 1992, then President George H.W. Bush prepared a Customer Service Week Proclamation which he opened with the following words, "In a thriving free enterprise system such as ours, which provides consumers with a wide range of goods and services from which to choose, the most successful businesses are those that display a strong commitment to customer satisfaction. Today, foreign competition as well as consumer demands are requiring greater corporate efficiency and productivity. If the United States is to remain a leader in the changing global economy, highest quality customer service must be a personal goal of every employee in business and industry."
President Bush's words still hold true today despite the rapid changes our society has undergone. Customer service will always be the foundation of an organization and at the core of its success or failure. For that reason, striving for the highest standards in customer service must be an ongoing mission of every organization regardless of its products, services, industry or markets. Achieving high quality customer service requires that best practices be adopted and continuously benchmarked across all departments. Ongoing customer service training and continuous education regarding new products and services, regulatory developments and other changing market conditions are critical. Being well informed and able to competently answer customers' questions and efficiently manage their requests requires knowledge and experience.
Employees Matter Too
Management that overemphasizes customer service without acknowledging the contributions and role of their employees in maintaining high quality customer service is not likely to gain the greatest performance from their staff. Employees are on the front line of every customer engagement and therefore must be empowered to perform their roles well and supported with the right processes and technologies. They should have a voice in the development of certain processes that they believe will best serve the organization's customers. Their ideas should be encouraged and fostered in regular team meetings, whether held live or virtually using a video conferencing platform. They should be recognized and rewarded – not just during one week in October – but year-round to further earn their dedication and commitment to customers and loyalty to the organization.
How Customer Service Week Is Celebrated in the U.S. and Abroad
The official Customer Service Week website is CSWeek.com. It contains information about the week and its history, as well as different ways to celebrate the week. There are gifts such as puzzles, activities with step-by-step instructions, printable materials such as invitations, cupcake toppers, gift bags, candy wrappers, etc. branded with the Customer Service Week information. There are break time snacks like champagne jellybean bottles, floral arrangements, water bottles and travel mugs, coasters, and festive decorations ranging from balloons and banners to posters and pennants. There are downloadable Customer Service Week logos to use, and many other ideas to make Customer Service Week an exciting and impactful employee celebration.
This Customer Service Week, make it a memorable one for both customers and employees.